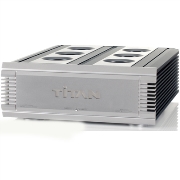 Titan - Overview
- "I can't imagine anyone hearing the Titan and not loving it". That was the conclusion of Michael Fremer's review of our statement power amplifier for Stereophile.
- The Titan is a fully balanced power amplifier, capable of delivering a mighty 1KW per channel into 8 Ohms, 2KW into 4 Ohms and just short of 4KW into 2 Ohms. There is no speaker the Titan cannot drive to greater heights.
- A dual-mono design, the Titan comes housed in a matching pair of beautifully finished boxes. Inside sits the culmination of 30 years of hi-fi engineering expertise.
- Our obsession with musicality means the Titan is a powerhouse with poise: whether your favourite tracks need a tender touch or breathtaking slam, the Titan serves them up with unerring accuracy and an appeal that can only be rivalled by listening to live music itself.
- To quote another review, this time from HI-FI News: "Never have we heard a traditional amp which does everything quite so well."
Titan - Design and Build
- Born from the legacy of Musical Fidelity's kW, the Titan uses the latest engineering expertise to top the legendary performance of that original super amp. Its advanced technology and design make the Titan an unbeatable power amplifier that will last a lifetime.
- The Titan is a fully balanced design, from beginning to end. We've already covered its monumental 1KW power delivery in the product overview; here we can delve into more detail about the Titan's ultra-low distortion and signal-to-noise ratio.
- Not only are distortion rates stunningly low – less than 0.01% at 10Hz to 50kHz – but unlike other amps, those figures don't dramatically increase as frequencies rise. Even at 100Hz its distortion only peaks at around 1%: remarkably minimal compared to rivals. Such consistency guarantees an incredibly clean performance with any kind of music, source or speaker.
- It may seem strange to praise a power amplifier for being outstandingly quiet, but a low-noise layout is crucial to ensure you're only hearing the music, not feedback from any element of electronic design. The Titan uses such a design, with external power supplies ensuring zero interference with the amplifier's delicate signal circuitry. Measurements prove the Titan operates at near-silent levels, despite its muscular specification.
- Its tiny signal-to-noise ratio also contributes to the Titan's immense dynamic range, plus its ability to deliver low-level detail with class-leading clarity and accuracy.
- That 1kW of power enables the Titan to serve up music with incredible speed, precision and authority. There's no harshness or clinical feel to the sound: delivery is smooth, effortless and natural – taking you as close to the experience of live music as hi-fi can hope to get.
- The Titan is an amplifier that will suit every style of music and mood – from gentle listening to party levels. As Michael Fremer noted in his Stereophile review: "The Titan seemed to have an unlimited ability to play loud, louder, and louder, without changing its sonic personality—and, with all that power, without ever sounding strained."
- Connectivity options mean the Titan will fit into a range of suitable systems. It accepts both balanced and line-level inputs, plus a 3.5mm trigger input, while its twin sets of speaker outputs feature 30 micron gold plating.
- Finally, it may offer monstrous levels of power, but the Titan is far more beauty than beast. The front panel, machined from a solid aluminium ingot, is exquisitely finished, as are the custom extrusions used on the top panel and heatsinks. There are no exposed screwheads on the front, top or sides of the Titan: these are boxes that can take pride of place in your listening room.
Performance
- Power output: 1000 Watts per channel into 8 Ohms (30 dBW)
- THD(+ noise): <0.008% typical
- Signal to Noise Ratio: >126dB
- Frequency Response: +0, –0.5dB, 20Hz to 20kHz
Inputs
- 1x RCA Phono Line Level
- 1x Line level XLR Balanced
General
- Dimensions WxHxD (mm): 483 x 185 x 635 (Amplifier) - 483 x 185 x 615 (Power Supply)
- Weight (unpacked / packed): 45 kg / 50 kg (Amplifier) - 68 kg / 75 kg (Power Supply)