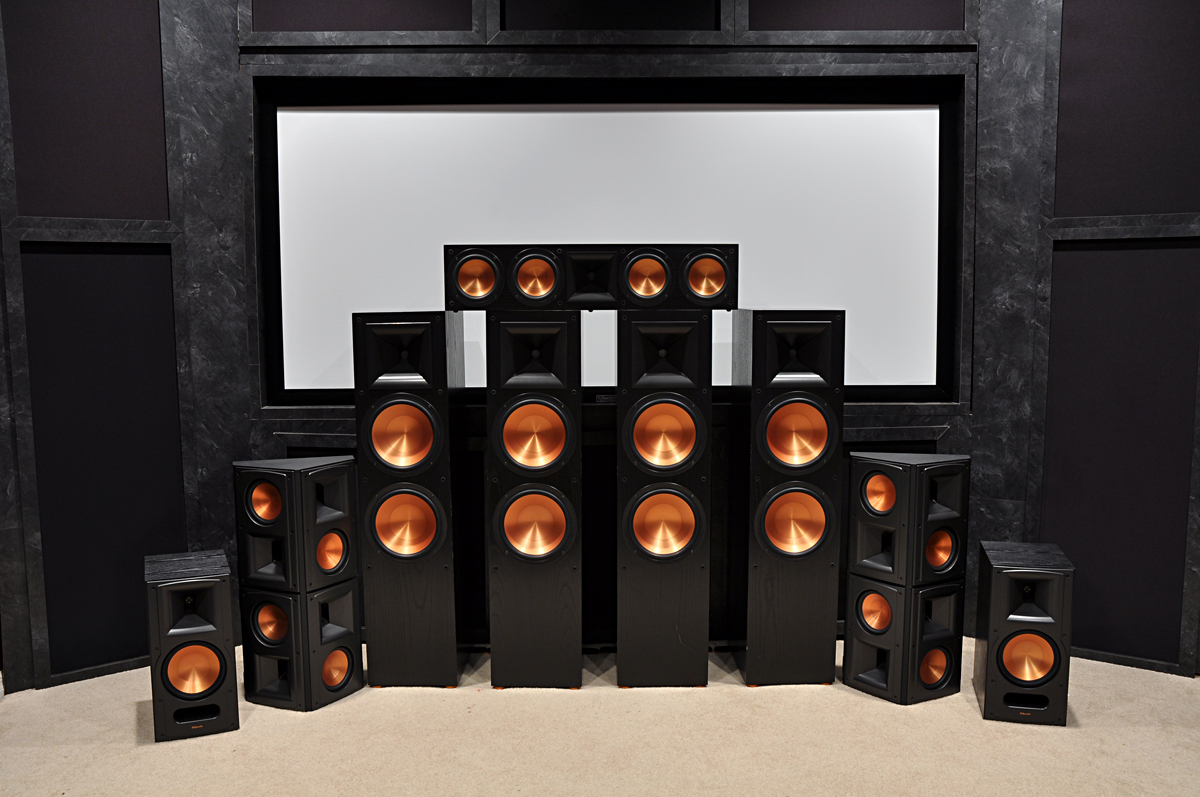 The ultimate in Reference Series performance, the RF-7 II tower speaker lets you experience the true power, detail and emotion of cinematic spectacles and concert performances from the comforts of home.
Flagship Reference Series model
Fills large rooms with movie theater/concert quality sound
Uncovers every subtle nuance of your content
Highly efficient design produces more output using less energy
Accurate, non-fatiguing sound
Plays louder with less distortion than the competition
Dynamic 1.75" titanium Linear Travel Suspension horn-loaded tweeter
Dual 10" high-output Cerametallic woofers
Dimensions: 48.5" H x 11.6" W x 16" D
Beautiful furniture-grade wood veneer cabinet

| | |
| --- | --- |
| Frequency Response: | 30Hz-24KHz ± 3dB |
| SENSITIVITY: | 101dB @ 2.83V / 1m |
| POWER HANDLING: | 250W RMS / 1000W Peak |
| NOMINAL IMPEDANCE: | 8 ohms compatible |
| HIGH FREQUENCY HORN: | 8" square 90° x 60° Tractrix® Horn |
| Low Frequency Driver: | Two 10" (25.4cm) Cerametallic cone woofers |
| CROSSOVER FREQUENCY: | 1200Hz |
| ENCLOSURE TYPE: | Bass-reflex via dual rear-firing ports |
| INPUTS: | Dual binding posts / bi-wire / bi-amp |
| HEIGHT: | 48.5" (123.3cm) with feet |
| WIDTH: | 11.6" (29.5cm) |
| DEPTH: | 16.3" (41.5cm) with grille |
| WEIGHT: | 87.1lbs (39.5kg) |
| FINISHES: | Black Ash , Medium Cherry furniture grade wood veneer |

Rotel RMB-1585 Multichannel Amplifier
If you are assembling a home theater system, you must have an amplifier that feeds at least five channels. In fact, for the vast majority of HT enthusiasts, five channels plus a powered subwoofer will be all that they need. The basic question is how much power is needed to drive a center, two front, and two surround channels. The answer will depend on many factors, including room size, listener position distance, efficiency of the speakers, the customary listening level, and the sticky one…future-proofing if some of these variables change.
I have always believed that you should buy a multichannel amplifier as if it was your last multichannel amplifier, or at least your last for a decade, (actually, I have had my Pass Labs X-5 for more than 10 years). That considered, the answer to the power question is easier to answer than you might think. Home theater amplifiers should provide effortless delivery of some demanding sounds (and sound effects). So, my response is, get as much power as you can afford in as big a package as you can fit in your room.
Case in point is the Rotel RMB-1585, the most powerful multichannel amplifier in their current lineup. A heavyweight out of the box, the RMB-1585 is not only a heavyweight contender but, perhaps, the next heavyweight champion. Even better, this MC amplifier replaces the previous Rotel offering that offered Class D amplifier power while the successor to the throne is the more traditional A/B mode.
A New Beast From The East
Perhaps, newbies need not apply. Just getting the RMB-1585 out of its box is a two-man deal. The 79 -pound net weight is way short of the snatch-and-grab Olympic finals but prospective buyers will either need to work out or hire a muscle man to get things started. As my perceptive better half pointed out, "why doesn't this amp have rear handles like your other ones?" That aside, setting up the RMB 1585 was very simple. In fact, the only decisions that need to be made are mode of operation (balanced or unbalanced) and the internal fans on or off.
With the Lexicon MC-12 HD EQ surround processor as the front end, and, in all balanced mode, we introduced the Rotel amp to my Martin Logan ESL surround system. As they say in the business world, no problem, and, for once, this overused expression was absolutely correct. Plug and play at its best. The nice thing about having 200 watts per channel is having 200 watts per channel. Once in the system, this MC amplifier was a sheer delight to operate. Part of the magic is due to Rotel's massive proprietary transformer and power supply, along with Rotel's Slit-Foil capacitors. Regardless of specs, this is one helluva amplifier.
Rotel RSP1580 7.1 Home Theatre Surround Preamplifier / Processor
Rotel RSP-1580
Surround processor. 7.1 channel, with multi-zone audio (up to 4 zones)
Dolby: TrueHD / DigitalEX / Digital / Prologic IIx. DTS: HD Master Audio / Hi Res
HDMI 1.4 Matrix: 4 x Source x 4 Outputs - any source to any output. Faroudja DCDi
Front panel USB input for iPhone/iPod & any class 2 storage device
Full OSD overlay on HDMI sources. Dual processors for up to 3000 MIPS
Large LCD screen for monitoring video sources & outputs. RS-232. 4U cabinet
Available in silver or black - please note your preference at checkout
For nearly 50 years now, Rotel has earned an unrivaled reputation for offering exceptionally high performance for the dollar. Home Theatre and music enthusiasts will quickly discover that the new RSP1580 flagship preamplifier/processor is worthy of the description "world's best" and yet still offers incredible value. All key areas of its design have been skillfully addressed - digital circuits and signal processing, analogue circuits, video switching and the crucial power supply sections.
Colours Available
Silver
Black