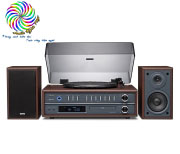 TEAC LP-P1000
Turntable Stereo System with Bluetooth® in a Retro-modern Design
| | | |
| --- | --- | --- |
| | LP-P1000-CH (Cherry) | |
3-speed Turntable Supports 78RPM SP Records

| | |
| --- | --- |
| | The LP-P1000 supports not only 33-1/3 and 45 RPM for LP/EP but 78RPM SP records as well. The auto-return tone-arm automatically returns to the resting position when finished. A rubber mat for the turntable is included to absorb vibrations and eliminate track skipping during playback. |

Wireless Music Playback from Smartphones and Tablets via Bluetooth®

| | |
| --- | --- |
| | The LP-P1000 allows you to playback music files wirelessly from your Smartphones or Tablets via Bluetooth® connection. |

CD Player Supports CD-R/RW Disc and MP3/WMA Playback

| | |
| --- | --- |
| | A Tray-loading CD Player plays back CD-R/RW discs as well as conventional audio CD, MP3 and WMA files. The LCD display shows song titles and artist names. (2-byte characters are not supported on the display.) The LP-P1000 offers versatile playback modes such as program-play (max 32 tracks), shuffle-play and repeat-play. |

2 Auxiliary Audio Inputs on both the Front and Back

| | |
| --- | --- |
| | There are 2 auxiliary audio inputs, a stereo mini jack on the front and RCA jack on the back. Connect your TV and enjoy programs and movies with hi-fi quality. (Front AUX1 has priority to AUX2 on back.) |

PLL Synthesized AM/FM Stereo Tuner

The LP-P1000 employs a PLL Synthesized AM/FM Stereo Tuner and stores a total of 40 (AM 20 + FM20) of your favorite stations.
| | |
| --- | --- |
| Hi-Fi Design in a Retro-modern Look | To TOP |
High Performance Stereo Amplifier with 25W + 25W Output Power

The LP-P1000 delivers 25 + 25 watts output power and fills your living room with quality sound from Bluetooth® devices, CD's or your LP's.

Separate 2-way Speaker Units

| | |
| --- | --- |
| | The LP-P1000 incorporates a pair of separate speaker units that accept as much as 25 watts of output power from the main unit. Having the speakers separate from the device offers stable operation and allows you to push the speakers to their full potential without the worry of skipping your records. To help emphasize the warm bass tones and reduce vibrations, TEAC made sure to include sufficient bass reflex holes on the backs of the speaker cabinets. The speaker cabinets come in a matching wood-grain finish, walnut or black |

A 70s Retro-modern Design a Reminder of Old Modular Stereos

| | |
| --- | --- |
| | The design idea of the LP-P1000 is borrowed from old Modular Stereo Sets, prevalent in the 1970s. Its appearance reminds users of the good-old-days. Its retro-modern appearance pairs great with contemporary interior furniture as well. |

BASS/TREBLE Tone Control and L/R Balance Control

The LP-P1000 offers BASS/TREBLE tone control as well as LEFT/RIGHT balance control that allows users to adjust the sound when various speaker positions are limited.

Headphone Output

| | |
| --- | --- |
| | A Headphone jack is located on the front panel, perfect for listening to music late at night. |

AUX Audio Output allows the LP-P1000 to be used as an external turntable unit

| | |
| --- | --- |
| | Thanks to an auxiliary audio output, you can use the LP-P1000 as an external turntable unit by connecting it to an existing amplifier. The LP-P1000 will also send an audio signal from the CD player, Bluetooth® devices, or AM/FM tuner. |

Replacement Stylus Available for SP Records (Sold Separately)

| | |
| --- | --- |
| | In order to prevent unnecessary attrition, or maintain accurate tracking on SP records, TEAC provides a replacement stylus tailored to the differing groove widths for SP records. (SPL-102) |
Wireless connection from Smartphones, Tablets and Laptops via Bluetooth®
3-speed Turntable including 33-1/3, 45 and 78 RPM allows SP record playback as well as from LP/EP's
Rubber mat for the turntable platter absorbs vibrations and reduces track skipping during playback
Tray-loading CD Player that plays back CD-R/RW discs and MP3/WMA files
PLL Synthesized AM/FM Stereo Tuner with 20AM + 20FM Presets
2 Auxiliary Audio Inputs (Stereo Mini on Front, RCA on Back)
Audio Output allows the LP-P1000 to work as an external turntable unit
25 watts + 25 watts Output Power
An included pair of 2-way Bass-reflex Speakers
Bass/Treble Tone Control
Left/Right Balance Control
3-step Dimmer LC-Display
On/Off Timer, Digital Clock, Sleep Timer
Headphone Output
Remote Controller included
CÔNG TY TNHH MTV TM DV ĐIỆN MÁY - ĐIỆN LẠNH NGỌC THUỶ
Địa chỉ: 611/113A, Điện Biên Phủ, Phường 01, Quận 3, Tp.HCM
Điện thoại: 0934.016.661 - 0907.126.661 - 0938.182.106
Email: [email protected]
Website: https://nghiathuyaudio.vn
Mst : 0315177804
Số tài khoản: 2821100240007 tại ngân hàng TMCP Quân Đội,CN Nguyễn Đình Chiểu.TP HCM
Số tài khoản cá nhân : 2820103150005 tại MB Bank, người thụ hưởng - Huỳnh Thị Bích Nga
Showroom : Địa chỉ: 611/93 Điện Biên Phủ, Phường 01, Quận 3, Tp.HCM - xem bản đồ
Cảm ơn Qúy Khách chọn sản phẩm do Nghĩa Thủy Audio cung cấp !